While it's always fun to celebrate our nation's independence, many of our beloved pets tend to get scared of fireworks. The loud noises usually cause them plenty of anxiety. CBD for your pets numerous dogs and cats shake in fear and may even leave little puddles inside the house. Of course, as pet owners, we can always plan ahead to help our pets cope with loud noises.
First of all, it's important to understand why your pet may become anxious on the Fourth of July. Common factors may include:
Think about fireworks from your pet's perspective. If you heard a series of unexplained loud explosions late at night – wouldn't you be anxious? The booming sounds and feelings of tremor make pets feel severely anxious or fearful. The confusion and anxiety caused by fireworks is traumatic, and it's common for dogs to respond by trying to flee. That's why July 4th is the most common day of the year for escaped dogs.
You are your pet's world, and they will often turn to you for comfort and reassurance. If you choose to spend the holiday away from home, your pup's anxiety may be elevated during the commotion of loud fireworks and neighborhood activities. The anxiety of fireworks can also worsen the effects of separation anxiety, a common condition in dogs defined by stress and anxious behaviors in the absence of the owner.
Instead of going out for Independence Day, you may decide to stay home and invite friends over to celebrate. Some pets may love having visitors and more attention, but other dogs may shy away from the idea of new people in their space. If you know your dog experiences anxiety around new people or party settings, a Fourth of July house party may trigger stress and anxious behaviors.
Signs of anxiety in pets range from mild and subtle to extreme and destructive. To determine if your dog is stressed by the July 4th celebrations, look for the following signs: trembling, hiding, escape behaviors, pacing, increased vocalization, yawning, licking lips, tail between legs and chewing or destructive behaviors.
By now, you might be asking the question, "So what can I give my dog for fireworks anxiety?" While there are a few smart and simple techniques for calming your pets down; none of them compare to CBD for pets. CBD oil for pets will help keep your furry loved ones in a calm state of mind.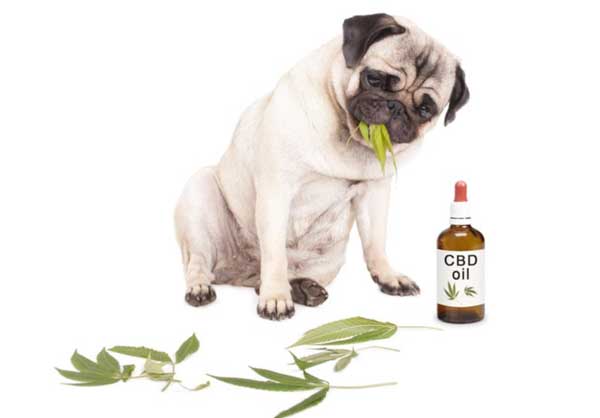 CBD for Your pets
In the last couple of years, many people have been relying on CBD products to keep their pets calm through everything from the firework show to thunderstorms and even loud parties. The right CBD treats to keep them calm and cool. Better yet, it works the very first time it's used. That means you can sit back and watch your buddy wag his tail without worry, no matter how loud the fourth of July fireworks get. Of course, you should only buy the best CBD for pets available in the market. That means CBD that is completely natural, laboratory tested, and made in the United States.
What is CBD?
CBD is short for cannabidiol. It's a compound that naturally exists in hemp, though it's present in other cannabis plants too. Unlike THC, CBD for pets will not get them high. It simply provides a soothing, balancing effect to their mind and body.
When a person or pet takes CBD, the compound interacts with their endocannabinoid system (ECS). The ECS helps maintain the body's internal balance by influencing other systems (nervous, digestive, immune, etc.) to function steadily. Research shows that CBD may assist your ECS and boost this natural process.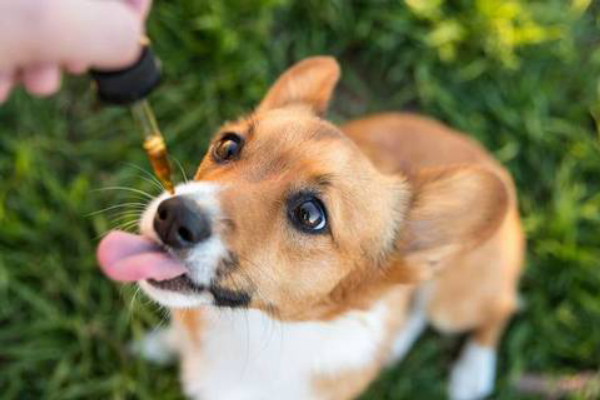 Notable studies on CBD for Your pets
Studies show that CBD for your pets can really reduce anxiety and this information is backed by veterinarians across the nation.
One of the most interesting studies involving dogs and anxiety was performed here in the US. In 2018, hundreds of professional veterinarians spread throughout the country completed a survey covering numerous questions about CBD. The vets were asked about their knowledge of CBD, how many pet owners inquire about CBD, and how CBD has helped or harmed pets. One question, in particular, was about dogs with anxiety and whether CBD is effective or not. Surprisingly, 87.1% answered that CBD for your pets is helpful, and only 1.2% claimed that it was harmful.
Potential for treating PTSD
Another trial done in 2012 examined CBD's effect on long-term stress. The value of this study was to determine CBD's potential for treating post-traumatic stress disorder, a troubling mental condition that can develop after a traumatic event. Researchers essentially traumatized rats by exposing them to a predator (a cat) and then administered CBD continually for one week. After the week was over, they measured the rat's brain function and anxiety levels through the elevated plus-maze. They found that CBD protected the rats from the long-term effects of stress they may have otherwise experienced.
Verified anxiolytic effects
A 2008 study conducted in Berlin tested the anxiety-reducing effects of CBD on rats through the Vogel conflict test (VCL) and the elevated plus-maze (EPM). These are both well-established rodent tests that measure the anxiolytic effects of drugs. After injecting the rats with CBD, they all performed positively on the tests and displayed reduced levels of anxiety.
While you're planning your Fourth of July festivities, consider CBD for your pets to calm their anxiety. Calm your pet's fears and stress with an effective solution, so you can both have a happier holiday.
Now that you know how CBD for pets can be a great way to calm them on the Fourth of July, it's time to shop! Get your hands on high-quality, THC-free* hemp products at Califia Gold. We third-party lab test all of our hemp oil, so you can be confident that you're receiving a safe and effective product for your pet.
Recommended Read: How To Know High-Quality CBD From Low-Quality CBD